(Updated May 2021)
Facial exercises yoga is a great way to help to maintain muscle tone, improve blood flow, reduce tension and stress, help look after your skin, and improve your overall glow.
In this video by Dr. Sheena (Registered Chinese medicine practitioner) and cosmetic acupuncture expert,  you will discover three easy facial exercises to help tone and tighten the muscles of the neck, jawline, and sagging jowls. Facial exercises yoga is so effective, when done daily, you will really start to see the difference!
The muscles around the neck and chin are a common area of concern, with many of our clients complaining about neck sagging, lines, puffiness, and fluid retention. If this is you, and you have the dreaded 'chooky' neck or sagging jowls, then facial yoga may be a great natural solution for you.
Facial yoga method is a technique that may reduce these common issues and give you firmer, better-defined neck muscles.
There are a range of exercises that can be done to help reduce sagging in the neck as well as improving muscle tone in the neck region.
By exercising and strengthening the large bands of muscle that run from the shoulders, both sides of the neck and attach to the jaw bone, (called the Platysma muscle) the appearance of the neck region can be considerably enhanced.
Daily facial yoga can have a range of benefits including:
Thyroid Problems
The Thyroid Gland is a 'butterfly-shaped' gland just around the neck in the front of the chest.
We find that clients with thyroid issues  (particularly women who come in the clinic for cosmetic acupuncture with thyroid problems) typically experience sagging, heaviness, 'bogginess' and fluid retention around the thyroid region.
Facial yoga exercises greatly improve circulation around the thyroid gland and neck muscles and may be of benefit to thyroid health.
Self Expression
People tend to have a lot of problems with self-expression (speaking their truth to others) around the throat area and this leads to muscle tightness. Regular facial yoga exercises may help release internal emotions and help with communication and self-expression.
Counteracting the forward crouch from computer use
Facial yoga method is great for people that work in front of a computer, are frequently on their phones, or spend a lot of time driving. These exercises can help counteract a lot of that forward crouched motion associated with these activities.
Facial exercises yoga for the neck, jawline, and drooping jowls
When completing these exercises, it's important to make sure that you're breathing deeply so that you feel a nice stretch in through the neck when you inhale. Like any form of yoga, breathing is essential to getting it right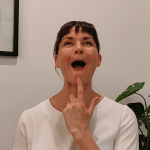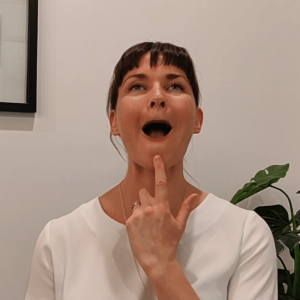 Facial yoga method exercise 1: O-mouth
This exercise is great for the neck muscles, but also the jaw if you have some temporomandibular jaw pain (TMJ), or any tightness or jaw clenching. It's also great for the mouth muscles as well.
Put your finger on your chin and make an 'O' with your mouth. This is a fun one to do, and can be done anywhere! 
Make an "O" with your mouth, opening and closing your mouth whilst you're tilting your head back, and going up and down, being careful not to strain the neck. 
Repeat several times, until you feel some warmth and fatigue in the muscles.
Facial exercise for the jawline 2: Neck opener
This exercise is amazing for opening through the neck and shoulders and toning those jowl and jaw-line muscles. It also boosts circulation in the neck and thyroid area.
Place your fingers on your collarbone, and then gently stretch the neck up. Just put a little bit of tension in the mouth and jaw – hold the tension slightly and then breathe.
Repeat several times, until you feel some warmth and fatigue in the muscles.
Facial yoga exercise for double chin and mouth 3: Kissing the sky
This facial yoga exercise works for the mouth muscles, as well as the neck and double chin, making it a great all-rounder. If you've got a bit of sagging around the mouth and some fine lines, this is a great one for you!
This exercise is done by puckering up to the heavens, stretching your neck up, facing the sky and kissing the ceiling "Mwah!" – make that kissing noise! it's a great release, and it is fun to do.
Repeat several times, until you feel some warmth and fatigue in the muscles.
We hope you enjoy our facial exercises for sagging neck, jawline, and sagging jowls! Stay tuned for our next installment of facial yoga, targeting the mouth, smile lines, and cheeks.
If you know you might need a little more support in your quest for healthy, natural ageing support, then contact us below to find out more about cosmetic acupuncture. 
More Posts You Might Like
Cosmetic acupuncture bookings
Book online here or phone the clinic on (03) 8394 7665 to book your acupuncture treatment today.
Are we easy to get to?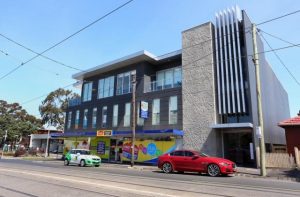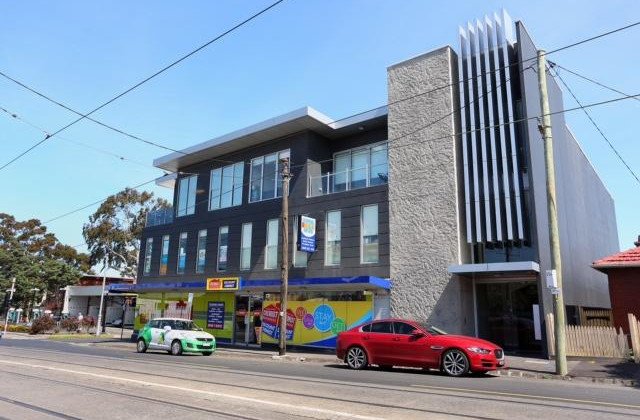 The clinic is located at Suite 4, Level 1, 151 Pascoe Vale Rd, Moonee Ponds. (Please ensure you take the ground floor elevator to reach us or level one.)
We provide acupuncture to the North Western suburbs of Melbourne and are close to Highpoint.
Qi Medicine acupuncture is minutes away from Ascot Vale, Essendon, Avondale Heights, Maribyrnong, and Brunswick West.
We also service many clients with acupuncture and Chinese medicine in Travancore, Flemington, Aberfeldie, Maidstone. Qi Medicine Acupuncture Melbourne is located just 10 km from Melbourne city. 
Follow Qi Medicine on Instagram and Facebook and stay up-to-date with all the latest news.