Need a pregnancy acupuncturist near you?
Updated 5th December 2023
Look no further for your new favorite pregnancy acupuncturist.
Our team LOVES providing acupuncture during pregnancy! Our goal is to help you through each phase of the journey and make it as easy as possible at our Melbourne clinic.
When it comes to women's health throughout pregnancy, acupuncture, and Chinese medicine may be considered to be holistic and nurturing treatment options.    
Are you at the start of your fertility journey, and not
yet

pregnant? Then read more about acupuncture and fertility here.
More and more women are seeking a pregnancy acupuncturist to help them through pregnancy symptoms. These symptoms include but are not limited to lower back pain in pregnancy, nausea with (or without) vomiting, support with insomnia with pregnancy, advice for swollen feet in pregnancy, and alleviating stress when pregnant.
How our team can help you with pregnancy acupuncture
Below are some of the more common reasons you may book with a pregnancy acupuncturist:
Early pregnancy nausea ( and nausea throughout pregnancy)
Nausea without vomiting
Relief from the stress of insomnia with pregnancy
Pregnant with neck pain 
Pregnancy pain in the lower back
Pregnancy pain in legs
Advice for swollen feet in pregnancy
Pregnancy pain in the groin or hips
Rib pain in pregnancy
Pregnancy shoulder pain
Alleviating stress when pregnant
What makes us great at providing acupuncture when pregnant?
Each of our doctors of traditional Chinese medicine has undergone extensive training and education in their field. In addition to a bachelor's degree in health science, each pregnancy acupuncturist has spent numerous hours each year refining skills and abilities through further focused study.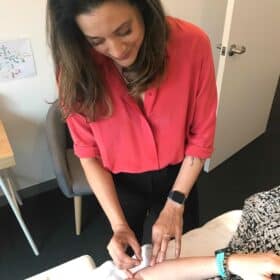 This extra training means our Chinese medicine team can provide you with the most updated and effective healthcare, relevant to your needs.
At our acupuncture clinic, our aim is to help you feel comfortable and happy leading up to your birth. Our acupuncturists want you to feel you can embrace this next phase of your life feeling educated and confident.
But more importantly, supporting women and couples through a fertility and pregnancy journey is our PASSION!
Find out more about our team here.
Are you just needing labour induction support? Find out more about acupuncture and labour induction here.
Helping you with anxiety with pregnancy
Pregnancy can be a difficult, anxious time. 
Society seems to portray pregnancy as being a 'wonderful' time in a woman's life, and for many women, this is just not the case. 
Physical issues, fatigue, insomnia, nausea, and a changing body all add stress to your system. However, perhaps the biggest stressor leading to anxiety in pregnancy is the "unknown". Not knowing how the pregnancy will go, how the baby will turn out, and how ( in reality) your life will change can really rattle your cage.
When we begin by addressing anxiety with pregnancy, your stress will reduce, and everything else usually becomes much easier to manage. And we work with you right through your journey, not just the first few weeks. So you can expect our team to be supporting you through labour and in the early weeks of your new baby's life.
Insomnia with pregnancy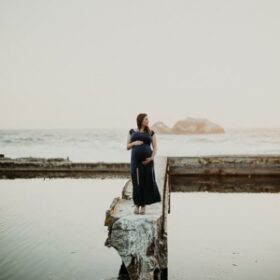 Insomnia with pregnancy is a huge issue for so many women. 
Not only are you trying to juggle work, family, social life, and your growing belly, but you have the added stress in pregnancy of feeling like a zombie every day.
To add insult to injury, you probably have anxiety with your pregnancy and nausea to boot- so unfair.
We get it, and we're here to help. Our trained Chinese medicine doctors can help coach you on exactly what you need to do to help alleviate your pregnancy insomnia. There is always an interplay between stress, appetite, diet and mood in pregnancy insomnia, so it is about getting the balance right for you.
Alleviating your insomnia may also help you manage any anxiety in pregnancy, help you reduce your nausea symptoms, and help you feel better in control.
Acupuncture for pregnancy nausea and morning sickness
Of all the things acupuncture is well known for, it is to help with pregnancy nausea.
As there are not many remedies for morning sickness out there ( aside from anti-nausea pregnancy medication, ginger and vitamin B6) acupuncture is one of the best remedies you can choose.
morning sickness acupuncture may help you with:
pregnancy nausea at night
pregnancy nausea without vomiting
pregnancy nausea with dizziness
understanding what to eat with nausea and morning sickness
Reducing pregnancy stress to help morning sickness
Treatments for pregnancy pain in the lower back
Lower back pain is a common theme for many pregnant women.
The pressure of your growing belly, along with the re-alignment of your hips and extra hormones in pregnancy make for the perfect conditions for pregnancy lower back pain.
At our Melbourne pregnancy acupuncture clinic, relieving pregnancy lower back pain is one of our specialties. Your pregnancy acupuncturist will also advise you on the best exercises, sleeping positions, and activities to minimise your lower back pain throughout all trimesters.
Treatments for pregnancy pain in the groin
One of the lesser-known, but debilitating issues women face during pregnancy is groin pain. This can make life even more difficult than it needs to be, and is not just a 'normal' part of being pregnant. 
Our team can assess and address the causes of your groin pain and may be able to provide you with pain relief with regular acupuncture. 
Swollen feet in pregnancy
Swollen feet in pregnancy can be due to a number of factors;
Changing hormones impacting fluid balance
Internal pressure inhibiting blood and fluid flow
Pregnancy exacerbating a pre-existing condition
At our acupuncture clinic, we will coach you on the best way for you to manage your swollen feet. This may be a combination of herbal pregnancy teas, pregnancy massage, diet, and activities.
Pre-birth preparation and labour support
When it comes time to meet your little one, we have you covered.
Labour preparation support is a big part of helping you through your pregnancy journey, and acupuncture is widely known to be useful during this time.
Some of the ways we can support you include:
Pre labour induction support
Labour induction acupressure
Training you and your birth support partner how to use acupressure during labour
Helping you understand your labour induction options
Helping you feel less stressed and anxious leading up to labour
providing you with labour breathing techniques and meditations
Postnatal acupuncture- the fourth trimester
This is the time when you and your partner perhaps need the most support. Your hormonal profile changes dramatically after giving birth, which is simial to a state of menopause. This temporary but dramatic change in hormones can lead to huge changes in your ability to cope with stress and fatigue.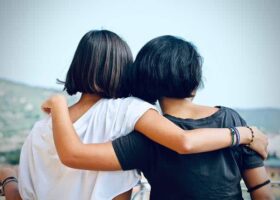 On top of this, you may be needing to recover from scarring or surgery, whilst trying to care for the needs of a newborn 24 hours per day. If you do not have the correct emotional, nutritional, and physical support at this time, you can quickly become overwhelmed and stressed.
This crucial 3-6 months after birth, or the fourth trimester as it is also known, is a time when your support team will be able to guide and nurture you– most of us on the team are mothers who have been there before too!
This is especially important when partners go back to work, and you are left to manage the daily household tasks mostly on your own.
Bringing bubs to your appointment
We know it can be tricky to get a sitter to look after your little one, so please call reception to arrange a time to bring your little one with you to your session. This can make it easier for you to get the care you need- as long as you don't mind letting us have a cuddle. 🙂
Our pregnancy acupuncturist are always available for a chat if you would like to find out more about acupuncture for pregnancy, or if you have any concerns or questions.
You can feel free to contact our Melbourne pregnancy acupuncture clinic anytime for a private phone consultation.
How to get started with pregnancy acupuncture
Call us to speak to our friendly reception team on (03) 8394 7665 to make your enquiry.
Typically, our therapists will usually recommend you take a course of acupuncture and Chinese herbal medicine. This can involve diet, lifestyle, and stress management advice.
Our treatment approach is a little more involved than just popping a pill! We choose a holistic approach may help provide you with the long-term support you are looking for.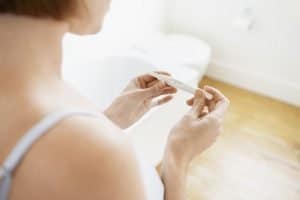 We can work with your GP or other health care provider to help ensure a safe, smooth treatment. Our doctors also enjoy working with women with chronic conditions such as endometriosis, PCOS (polycystic ovarian syndrome), and chronic acne.
Cost of pregnancy Acupuncture in Melbourne
for costs associated with our Melbourne pregnancy acupuncture see our pricing page here
Bookings
Book online here or phone the clinic on (03) 8394 7665 to book your pregnancy acupuncture Melbourne treatment today.
Are we easy to get to?
Looking for a pregnancy acupuncturist near you? The clinic is located at Suite 4, Level 1, 151 Pascoe Vale Rd, Moonee Ponds. (Please ensure you take the ground floor elevator to reach us or level one.)
Qi Medicine acupuncture for pregnancy health is minutes away from Ascot Vale, Essendon, Avondale Heights, Maribyrnong, and Brunswick West. We are a short drive to Keilor, Niddrie, Oak Park, Pascoe Vale, and Glenroy.
In addition, we are located close to Travancore, Flemington, Aberfeldie, Maidstone, and we are just 10 km from Melbourne city.
Follow Qi Medicine on Instagram and Facebook and stay up-to-date with all the latest news.
References
[1]
https://www.frontiersin.org/articles/10.3389/fgwh.2020.00001/full
1Program for Pregnancy and Postpartum Health, Faculty of Kinesiology, Sport, and Recreation, Women and Children's Health Research Institute, Alberta Diabetes Institute, University of Alberta, Edmonton, AB, Canada
2Faculty of Medicine and Dentistry, Women and Children's Health Research Institute, University of Alberta, Edmonton, AB, Canada