What is Hypnotherapy?
Helen Egert is a certified reiki master and hypnotherapist and provides heart-based hypnotherapy in Moonee Ponds and Essendon.
All our memories are stored within our subconscious mind, and make up our beliefs of who we are today.
Through the state of trance -hypnosis – the origin of your disease, pain or problem can be found in your subconscious. By reaching this stored experience through hypnosis, we can begin the process of understanding the cause of your issue and begin the process of healing.
I am a little unsure of hypnosis- how does it work?
Being in a safe space for you to simply be yourself is important, as it allows you to connect with and understand your true nature. Helen Egert- your hypnotherapist-  holds sacred your comfort and safety above all else and will ensure our experience is fully supported each step of the way.
It is vitally important to understand that although you will be in a relaxed and restful state, you will at all times be awake, aware and in control of your reality. You will be simply guided gently by Helen through your experience, and you will only work on issues and problems that you are ready to work on.
Despite what you see in popular media, hypnotherapy is not manipulative and you will not be coerced into doing things you do not want to. You will play the role of the controller through your experience, and Helen will work as your mentor and guide.
Helen practices HeartEnergetix hypnotherapy. What is this exactly?
HeartEnergetix is a blend of hypnotherapy, consciousness work and deep energy work.​​
This may sound a little strange to you, however, it is just a technical way of saying it is a gentle and natural way to overcome challenges you may be facing in life.
Through HeartEnergetix hypnotherapy, Helen helps you explore your true self and empowers you on your own healing path.
You and Helen will work together side by side to unravel your unhelpful past conditioning and beliefs.  This can lead to uncovering what has been holding you back from living your life to the fullest.​
​
Using age regression and deep energy work combined, you and Helen able to track back to the very first time the issue you would like to work on showed up for you. She will then guide you to engage in healing techniques that will help you release and transform your subconscious programming.
During a HeartEnergetix session, Helen uses several techniques to heal your subconscious and daily life.
Although in a trance-like state, you will be fully awake and aware of what is happening. This means you are safe, supported and in control at all times. 
Sometimes, hypnotherapy work may be a little uncomfortable, as you work through painful issues or memories that you are ready to face. This is a natural part of the healing process and can lead to a transformative, life-changing experience. At all times, Helen will hold space for you throughout the process.
Examples of hypnotherapy techniques used by Helen:
Psycho-anatomy and Cellular Consciousness
You may be aware that we are holding trauma and energy your body and energy. Through the vehicle of hypnosis you are able to feel into your body and listen to what it tells you.
Being able to talk to certain body parts and organs can be truly life-changing. This is a great technique for those who are suffering from any physical ailments, illness, headaches, chronic illness, and fatigue.
​
Family Lineage Healing
You can develop behavioral patterns which are generally adopted from your parents, grandparents, guardians or environment.
These behaviors may include anxiety, anger, stress, insomnia, physical ailments, and many more. When we are young we tend to take on energies from our parents in order to help them, not realising that we will have to heal ourselves when older.
These patterns are taken on subconsciously and most likely have been with your entire life to date. Family Lineage Healing is great as it works to heal issues in your lineage present, past, and future. 
Some benefits of HeartEnergetix Hypnotherapy:
Releasing stress

Releasing anxiety, panic or depression

Working through grief

Overcoming fears and phobias

Chronic pain and disease

Weight loss and eating habits and disorders

Sleep deprivation and insomnia

Confidence and self-esteem

Working through past trauma and negative experiences

Dealing with anger, hurt, resentment, negative emotions

Relationship issues (past, present, and future)

Financial stresses

Issues with performance, study, public speaking

Finding life purpose

Pain and stress in pregnancy

Pain and stress relating to fertility issues and complications

Quitting smoking and other addictions
A little more about your hypnotherapist, Helen Egert
I'm Helen. I am a passionate reiki practitioner and hypnotherapist.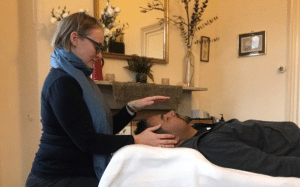 I started my professional healing journey in 2013 where I had the pleasure to study and learn the practice of Reiki. This spring-boarded my interest in the healing arts and led me to my further study in hypnotherapy. Since then I have not looked back, and I consider myself extremely lucky to have found my life's calling in my work.
I love being in nature. I believe that nature connects me to my reiki and energy practices, and I work hard to maintain a good balance of spending time in nature, and time with my clients.
What I love most about my work is seeing the change in peoples faces after a session. The complete bliss and relaxation on clients face is what keeps me going, knowing that I was able to help someone through their struggle, makes me happy.
Interested to know more? Read more about Helen on the about us page here.
What's my next step?
To get more information or to book your Moonee Ponds hypnotherapy session, contact Helen Egert directly or book online through her website  www.innerhealingpath.com.au. You can also email Helen directly at innerhealingpath@gmail.com, or phone 0487 253 162.
Hypnotherapy Moonee Ponds Prices
For the most current information on hypnotherapy pricing, please visit the inner healing path website here.