Welcome to the final installment of our facial yoga series, with a focus on sagging eyes and brow lines.
Facial yoga for sagging eyes and brow lines
Sagging eyes are a common problem for lots of folks. Sagging around the top of the eyes, eye bags, and sagging underneath the eyes can cause grief for many of us, and leave us looking for a natural facelift!
Why do we get sagging around the eye area?
In Chinese facial diagnosis, sagging eye areas have special significance.  If you find that you're getting puffiness or darkness under the eyes, it may mean that you may have concerns with adrenal fatigue or issues with salt or water metabolism.
It is possible that your digestive system or your hormonal system may be in need of a bit of a tune-up, which is something that can be looked at during your consultation for cosmetic acupuncture.
Find out more about our cosmetic acupuncture treatments here
Maybe you are constantly having problems under the eyes?  We recommend that, if this is the case, you have a health assessment (particularly with a Chinese medicine practitioner), to see if there are any pressing health concerns.  This can help us to identify what we may be able to do to assist in fine-tuning your hormonal balance.
Deep lines under the eyes
If you find you're getting deep lines under the eyes, making your features appear 'unhappy' – that can actually be connected with grief, sorrow or loss. These lines can actually be quite significant and may be worth exploring with traditional Chinese face reading.
Puffiness above the eyes
Perhaps you are experiencing drooping, heaviness, and puffiness above the eyes?  These can indicate, once again, an issue with your hormonal metabolism and imbalance that should be explored definitely with a full health assessment. 
A loss of muscle tone around the brow and the eyes can happen when sitting at computers for too long looking at screens. It can lead to stagnation and blockage around the eye area because we're not moving your eyes around as much as we should.
Eye puffiness can also indicate issues with digestion, and in Chinese medicine, it may indicate issues with the spleen. 
This is also something that's worth addressing health-wise because it has the potential to affect your whole body – in fact, your whole system entirely.
Facial exercises to combat sagging, puffiness and brow lines
Try these facial yoga exercises sagging eyes and brow lines to help strengthen the facial muscles and help combat sagging eyes and forehead lines!
As you go through each exercise, remember to breathe and relax after each movement.
Exercise 1: Brow muscle (over the eye)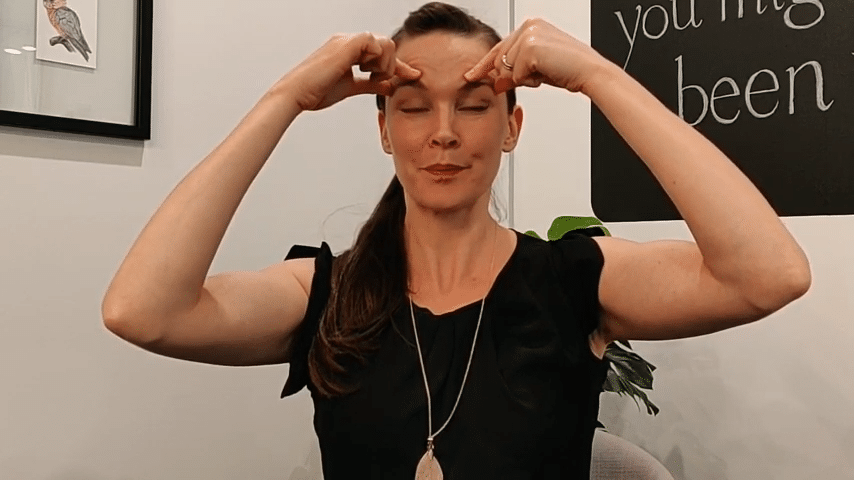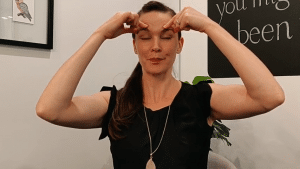 The first exercise will help to strengthen the muscles above the eyes. It's a really good exercise to help reset that brow muscle – which normally is quite locked and fixed. 
1.  Put one thumb on each side at the end of your eyebrows, and the other finger just above the middle of the eyebrow, holding both sides.
2.  Create a little bit of resistance down into the fingers from the brow. Holding that
muscle and pulling down, and feeling a good amount of resistance. Feel that brow pushing down, and you'll feel that the brow muscles will warm up. When you feel the muscle quivering, then you know its working!
If you do this exercise several times and repeat several times a day, you should notice that your eyes just want to elevate and lift.
Exercise 2: Inner brow muscles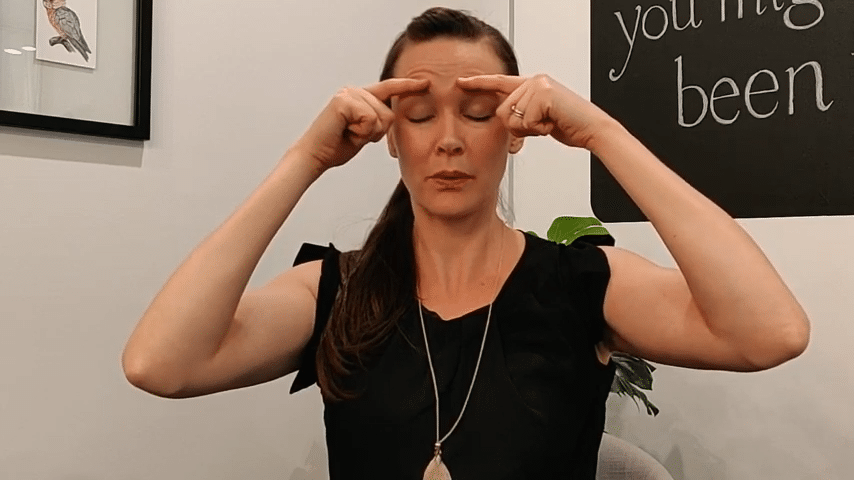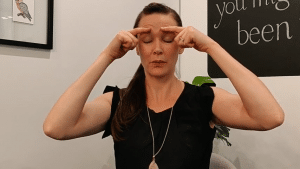 The second eye exercise may assist with droopy eyelids.
1. Place your forefingers on the inner side of each brow.
2. Push up a little into the forehead and then squeeze the brows down, feeling that tension there. You can close your eyes and breathe as you do it. 
3. Push and squeeze.
The muscles across the inside of the brows are really strong, so you'll find you may get a lot of resistance.
This exercise is great in eliminating the frown lines and the 'elevens'– the lines on the inside of the brows that are developed if you sit and concentrate at a desk all day long  (or if you're a real thinker / a bit of a worrier).
Exercise 3: Forehead and brow massage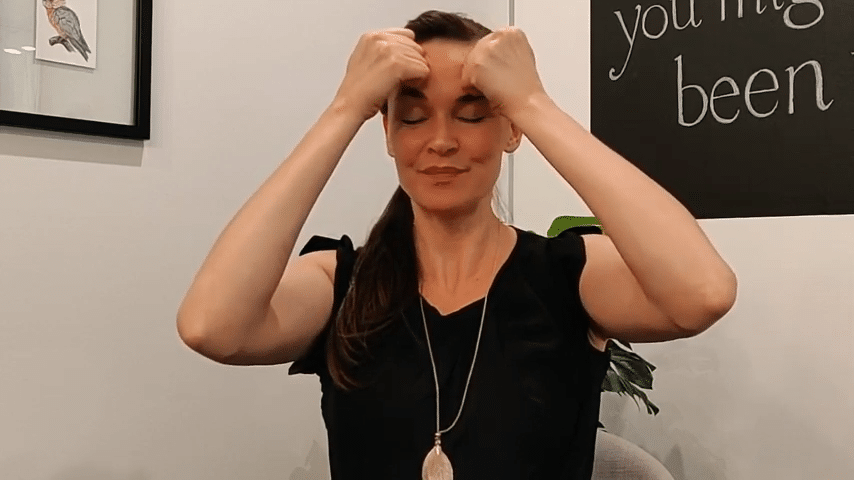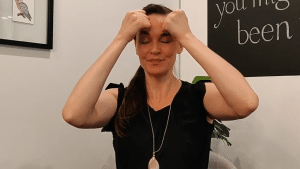 The third exercise is for the brow and the eyes.
1.  With your knuckles massage the brow and massage the large area in your forehead.
2.  It is very common for lots of people to have a lot of tension in the brow, and by massaging it with your knuckles, we tend to release a lot of tension.
3.  Swipe out, and if you come across any sore bits, get in there with your knuckles and really work it!
Exercise 4: Upper eyelid and under-eye muscles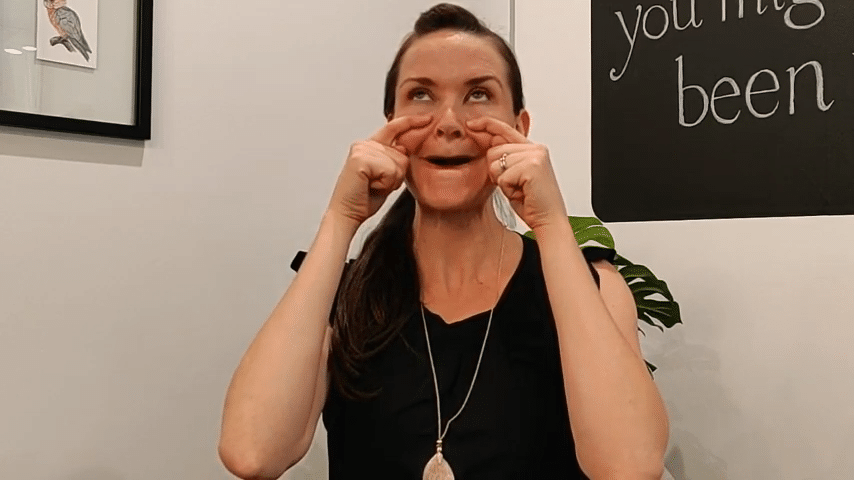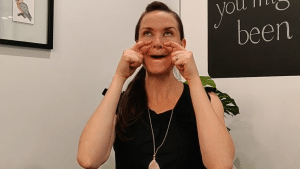 The last little exercise will help brighten and lift up the eyes. This also helps with under the eyes as well.
1.  Place your two index fingers under the eyes and then wrap your lips around your teeth.
2.  Look up and flatten the eyelid whilst brushing your cheeks upwards as you do this.
This exercise strengthens the upper eyelids and also strengthens the cheeks. It helps tone the muscles under the eyes if you're getting some sagging, wrinkling and puffiness under the eyes.
These super-simple facial yoga exercises are best done a few times a day for optimum results.
Some more facial yoga techniques:
Do you have questions about facial yoga?
Or how Chinese medicine can help improve your skin and general health and wellbeing? Would you like to know how we can work together to balance your stress, emotions and anything else that you've got going on?
We'd love to hear from you!
Bookings
Book online here or phone the clinic on (03) 8394 7665 to book your acupuncture treatment today.
We are easy to get to!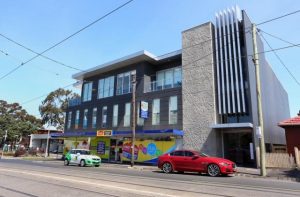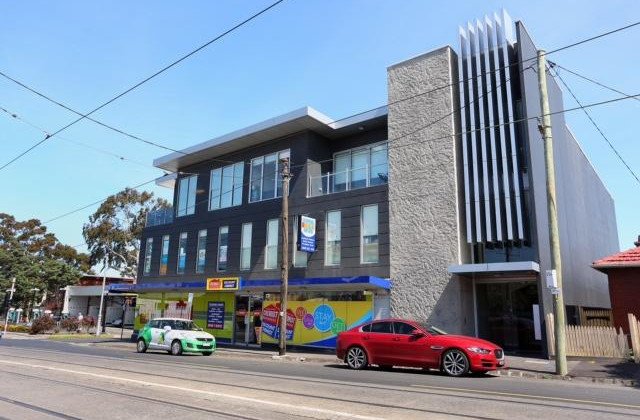 The clinic is located at Suite 4, Level 1, 151 Pascoe Vale Rd, Moonee Ponds. (Please ensure you take the ground floor elevator to reach us or level one.)
We provide acupuncture to the North Western suburbs of Melbourne and are close to Highpoint. Qi Medicine acupuncture is minutes away from Ascot Vale, Essendon, Avondale Heights, Maribyrnong, and Brunswick West. We also service many clients with acupuncture and Chinese medicine in Travancore, Flemington, Aberfeldie, Maidstone, and we are just 10 km from Melbourne city.
Follow Qi Medicine on Instagram and Facebook and stay up-to-date with all the latest news.